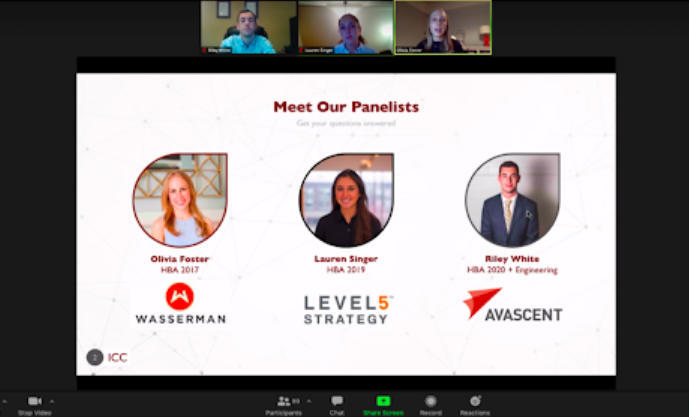 ICC's Boutique Firms Panel was an opportunity for HBA1 students to hear from Ivey grads working at Wasserman, Level5 Strategy, and Avascent, to learn more about consulting and these firms. A huge thank you to our panelists for taking the time to speak with us and providing insight into their careers and firms, and to the 110 students who attended the event!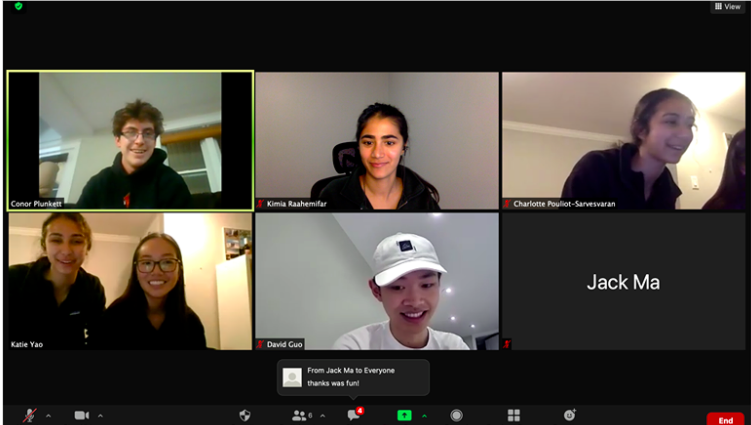 Skill Building: So You Think You Can Do Mental Math
ICC ran our first ever mental math skill building event last week to prep our members with all of the mental math tips, tricks, and hacks they need to ace their interviews! We were able to walk them through all the different types of math they might see in a case interview and end off with some friendly competition and prizes with a mental math Kahoot (picture includes our winners)! Thank you to the 120 members who came out to the event, it was a very successful run at our first mental math event and we can't wait to run it again next year!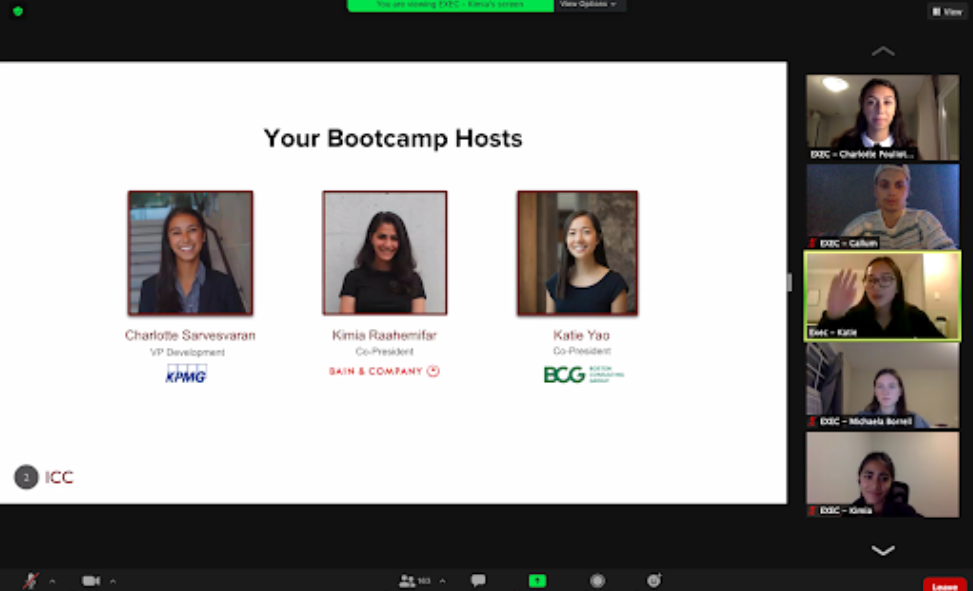 This week, ICC hosted our Bootcamp 2.0: Getting Started with Case Prep event. ICC members learned about everything they needed to know as they head into case interview preparation season, from the purpose of a case-based interview, to resources for technical skill-building, to a live case interview walk-through. We were very lucky to have Darren Cole - BCG Project Lead, Ex-McKinsey Engagement Manager, and Prepp'd Rep - at the event to help break down the traditional case. Thank you to Darren and to our Development team for such an informative and engaging event!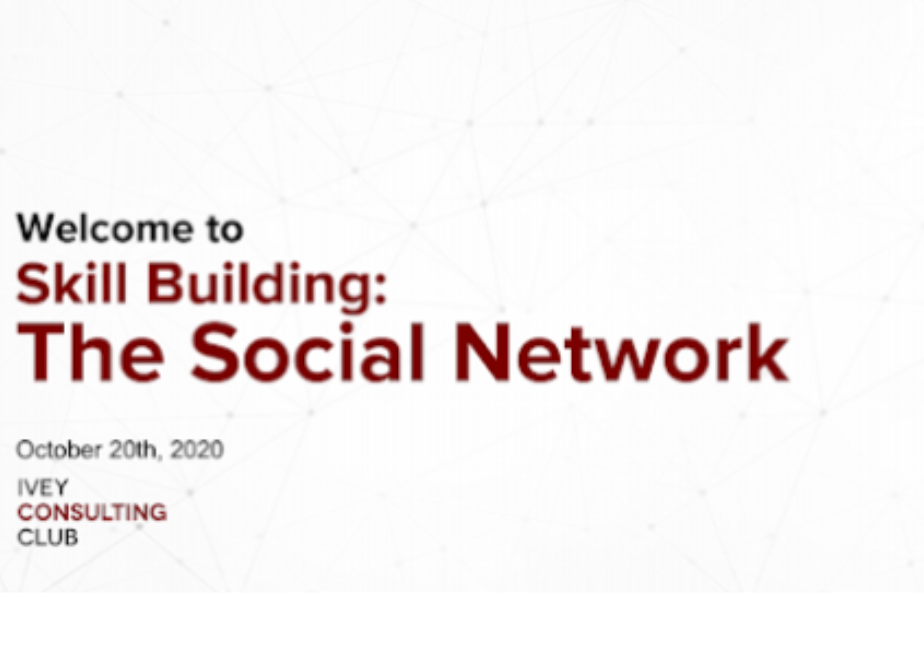 Skill Building: The Social Network
ICC's development team hosted a virtual skill building session this week to help members learn about the importance of networking, tips and tricks, and the general networking process. We also discussed best practices for networking in a virtual environment and how to make connections without meeting face-to-face. We hope this was helpful to our 150 members who tuned in! A huge shout out to our amazing co-hosts VP Development Charlotte and Co-pres Kimia!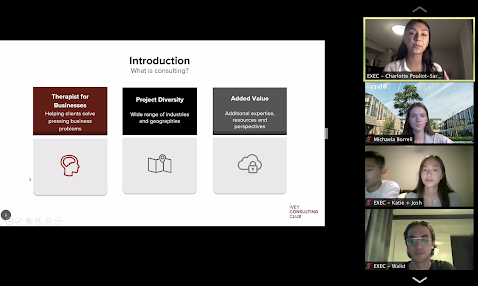 ICC hosted our first bootcamp event of the year on October 5th! Charlotte, Katie, Walid, and Josh discussed everything from the consulting recruiting timeline, virtual networking tips, and firm briefs in our bootcamp presentation, and our ICC mentees had the opportunity to meet their mentors for the year. Thanks to the 190 ICC members who came out to the event and we hope everybody had a great time getting to know their mentor!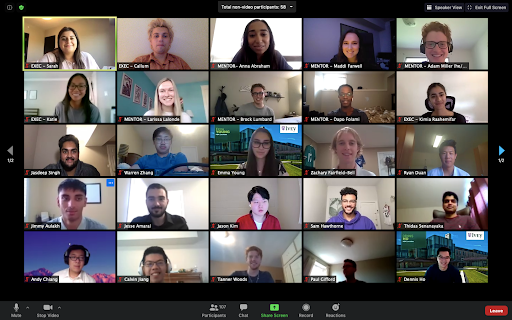 Thank you to our six incredible panelists - Adam, Brock, Dapo, Larissa, Maddi, and Anna - for sharing their insights on consulting and recruiting with our HBA1 members. As HBA2's and 3's who have interned in consulting, they discussed everything from their recruiting journey to their internship experience and long-term career goals, and answered tons of our members' questions. We hope this event gave our 130 attendees a fun environment to get to know our panelists and learn more about the consulting industry and recruiting process.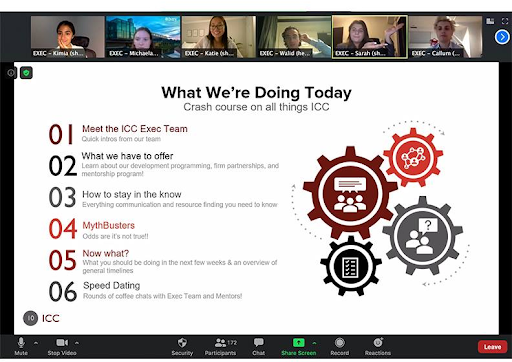 On September 23rd, ICC welcomed our newest members to the club with a virtual presentation about ICC and consulting followed by speed-dating with our ICC executive team and mentors. We hope our members learned something new, feel better prepared for recruiting and got to know some of our amazing HBA2/3 mentors on a more personal level. A huge thank you to our ICC mentors and the 170 participants who tuned in. We're looking forward to a great year!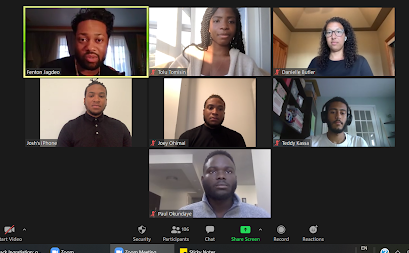 Black Ingratiation: only one in the room
Thank you to UWO Black Students' Association for hosting this open dialogue with the support from ICC. A special thank you to the five Ivey Alumni for sharing their thoughts, stories, and experiences as Black individuals both at Ivey and now in the corporate world. We appreciate the time Teddy, Danielle, Fenton, Paul, and Tolu put aside to help us learn and educate ourselves on how we navigate the workplace and do so in a way that addresses implicit biases and doesn't perpetuate microaggressions. We appreciate all the time and effort UWO BSA put into this event and hope the 100 participants that tuned in took away as much from the conversation as our ICC team personally did.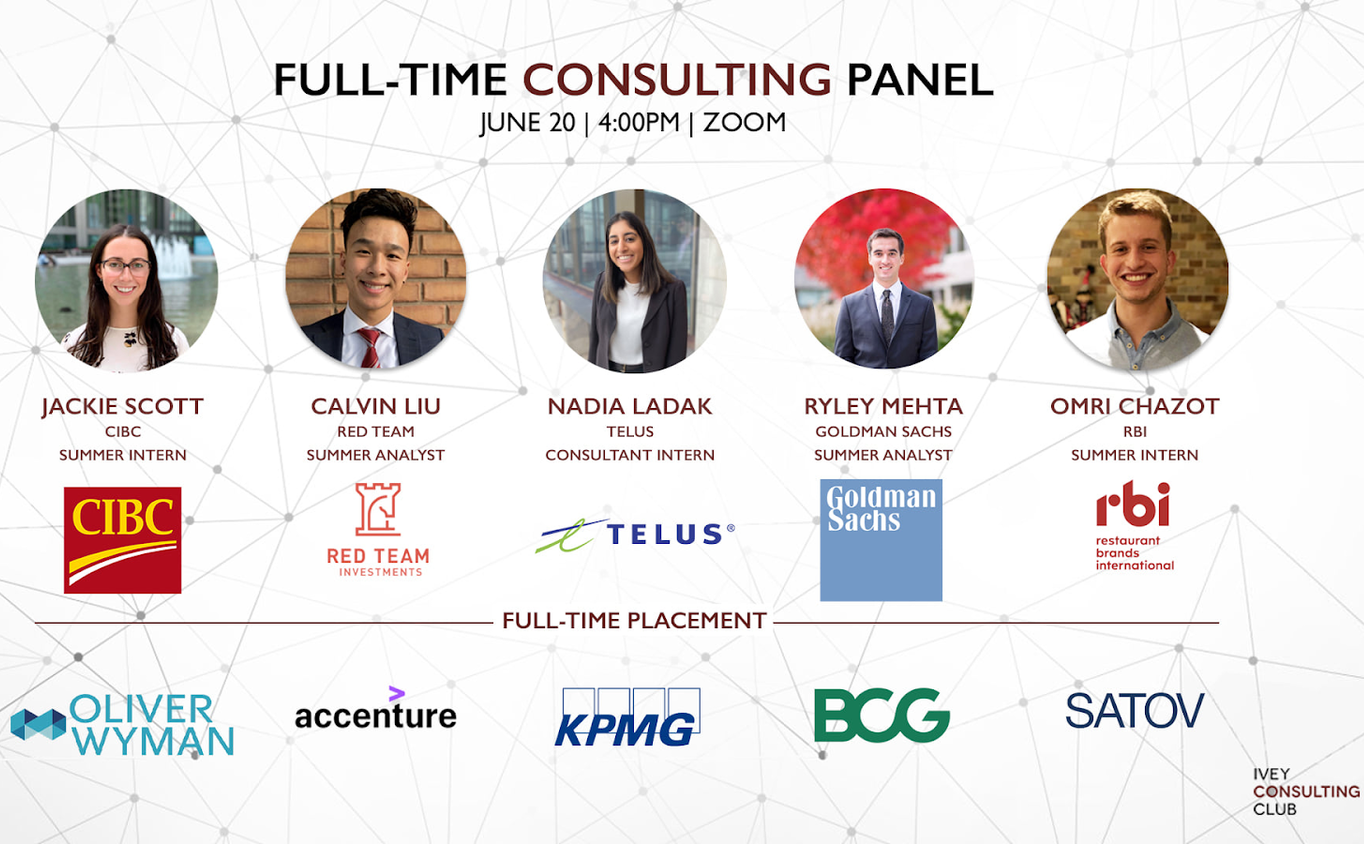 ICC hosted a panel with recent HBA graduates who shed light on their experiences re-recruiting for a full time position in the consulting industry. We would like to thank our panelists for taking the time to discuss their recruiting journey and we know that their advice will help our members be successful this recruiting season.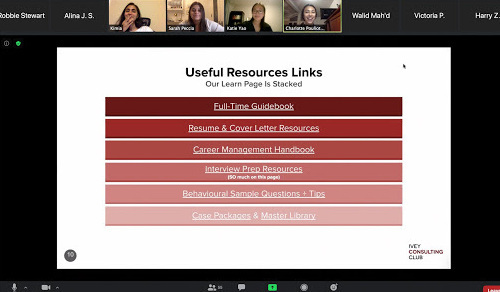 ICC Full-Time Skills Bootcamp
ICC's development team hosted a virtual bootcamp to help members learn about what full-time recruitment will look like this year and how to best prepare given these unprecedented circumstances. They partnered with Mastercard Advisors who shared some valuable tips regarding traditional cases and how to best execute them as well as Level5 Strategy who explained written cases and walked participants through a live example. We hope this was helpful to our 50 members who tuned it! A special thank you to Mastercard Advisors, Level5, and our VP Development and VP Partnership for this great first event!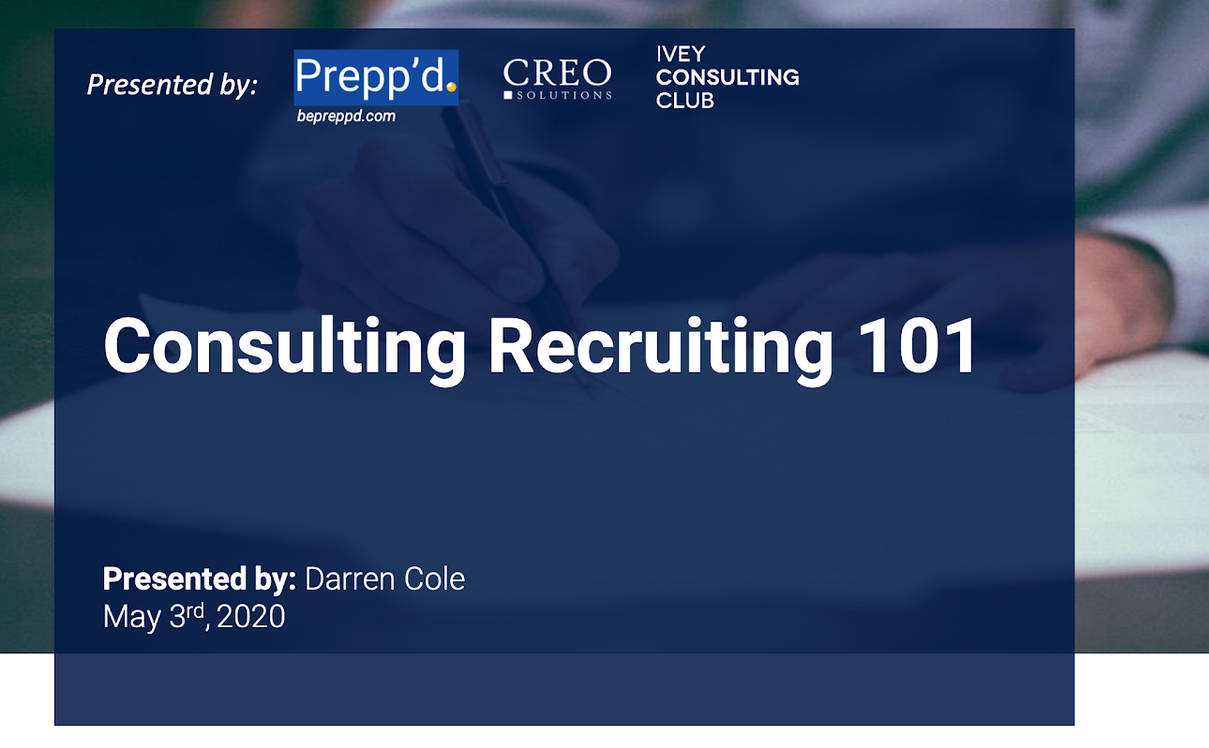 Prepp'd Consulting Recruiting 101
On May 3rd, ICC partnered with CREO solutions for a recruiting workshop run by Darren Cole, an ex-McKinsey engagement manager. Darren gave a behind-the-scenes look at each part of the recruiting process. The workshop focused on how candidates will be evaluated and how to maximize your chances of success across both your behavioural and case interviews. Darren highlighted some key resources, like

Prepp'd

, which help candidates focus their preparation on what matters most. Luckily, Prepp'd has now extended a discount to ICC members - more details can be found on our

Learn page

. Thank you to Darren for hosting and to the 150 people who tuned in!